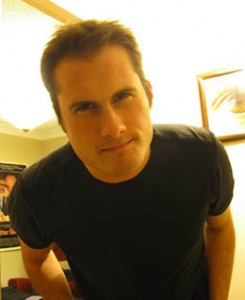 I live in Cullompton, near Exeter, Devon, UK. I started drawing when I was about 9 years old, being inspired by a book of those M.C.Escher pictures to draw hands, optical illusions etc. For some reason I stopped between the ages of about 15 and 29. It was only recently that I started drawing again, and re-discovered it was a great way to relax (and listen to a bunch of great old CDs again). I don't consider myself an 'artist' and never had any kind of training, but still just wanted to share a few bits and pieces.   
You can see some drawings in progress on the Jack Bauer and Kate Winslet pages. I'm rubbish at drawing from 'mind' though, or being truly creative. A couple of times I've 'added things' to sketches but its rare I have the courage to feel able to.  
Since starting drawing again, I have somehow met more people who used to paint or draw then stopped, and have been similarly inspired to start again. Perhaps its all the digital stuff and being sat at computers that makes creative messing-about suddenly seem so appealing again.
I'm mostly interested in psychology and am currently writing a book about how unconscious imagination, the sensation of free will, hypnosis, influence and causality all tie together. It's helping to develop a therapy model that allows for situations (anxieties, insecurities etc) to be efficiently mapped and worked with.
My Facebook profile (feel free to add me, I have few friends and get bored of the same old shit on FB these days!)
My rescue hamster, Picholas, in his beloved oven-glove, who I ended up looking after somehow for over four years:
Since writing this, Picholas sadly passed away. I now have a wonderful cavachon called Arrow (they got to meet briefly).